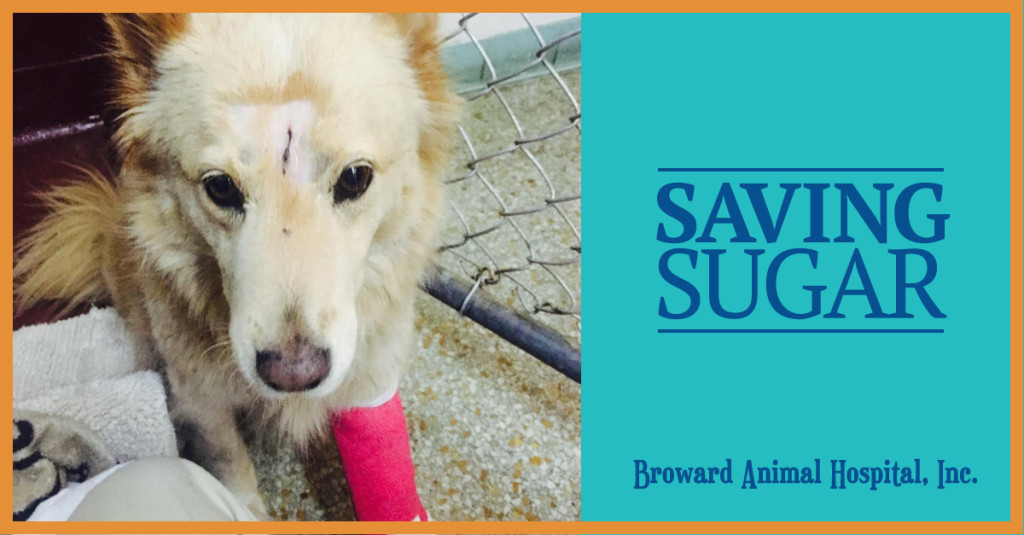 You may have seen the story on the news about the recent plane crash in Opa-Locka, FL, in which the three passengers and a precious dog named Sugar were injured, but survived. What you may not know is that Broward Animal Hospital in Hollywood, FL, had the privilege of nurturing Sugar back to health. At a veterinary hospital, you never know what pet will walk through the door or what need they will have, but on that day, we were very happy to meet and care for sweet Sugar.
According to Local 10, a small plane that departed from Miami-Opa Locka Executive Airport on Tuesday, November 24, and was headed to Bimini, but it had to make an emergency landing near a lake in Opa-locka shortly after takeoff. The pilot and an elderly couple (Sugar's owners) all suffered broken bones, but all are expected to be okay. Sugar, a senior golden shepherd mix, suffered a broken paw and a superficial cut between her eyes. She was immediately brought to Broward Animal Hospital for care.
Although obviously shaken up, sweet Sugar was surprisingly friendly and calm while in our care. Dr. Bishop and his staff treated her head wound and placed a cast on her broken paw. As a full-service hospital, we provide emergency care during our normal business hours, so we were able to receive Sugar and treat her immediately upon her arrival. We kept Sugar overnight for observation, and we are happy to report that she is now back home with her family and recovering well, thanks to our team.
Broward Animal Hospital is a family-centered veterinary hospital that provides a full range of services for pets of Florida. These include preventative care, boarding and grooming, dentistry, and emergency care. We're always happy to help pets just like Sugar down the road to wellness and treat them when it matters most. You can learn more about the plane crash and Sugar's story of survival by visiting the link below.
Source: http://www.local10.com/news/small-plane-crashes-in-opalocka/36736374